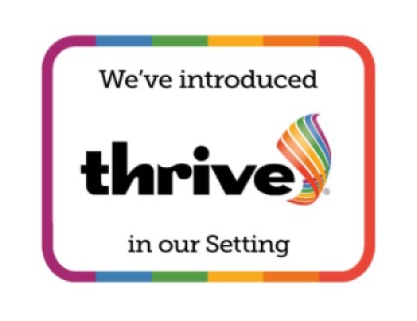 The Thrive room
Thrive provides a way of understanding and addressing the emotional and social development of all children. It offers right time interventions to meet the social and emotional needs of children at the developmental stage for their age, as well as reparative interventions to support children with gaps in their development.
Children with gaps in their social and emotional development, can find it difficult to engage with academic learning. Thrive enables us to identify those gaps and to address them using relational strategies and arts based activities.
Children may attend individual or small group sessions for specific reasons which may be a barrier for learning for example
Quiet, shy, withdrawn,
Find it hard to listen to others and join in
Disrupting own and others learning
Find it difficult to share and take turns
Find it tricky to settle and focus in class
Low self-esteem
Friendship difficulties
The Thrive room is based on the foundation phase side of the school building. It's a calm, and cosy room where individuals and small groups can spend time with a Thrive Practitioner engaging in activities from an action plan. Pupil profiles are undertaken in order to identify the area of need. A whole class, small groups and individual action plans support pupils development and a series of activities and interventions are put in place.
Activities may include: –
Story telling
Circle games
Arts and crafts
Sand play
Movement and relaxation
Music
Sensory play
Games
Puppet work
Thrive School Parent and Carer flyer (1)